Dr. Robert Brandt
Abbotsford dentist Dr. Robert Brandt obtained his General Dental Degree from the University of British Columbia. He looks forward each day to new challenges and opportunities for helping patients achieve optimal oral health.
---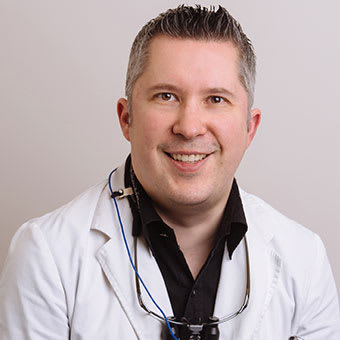 Dr. Robert Brandt
General Dentist
BSc, DMD, University of British Columbia
Dr. Robert Brandt is a graduate of the University of British Columbia. As an artist and a scientist, he found the perfect blend of both paths in the practice of dentistry where the skillful hand is as important as the focused mind.
General practice offers many new challenges and opportunities to help people. It is the interaction with patients, be it relieving their pain and anxiety, creating a new smile, or answering their questions, Dr. Brandt looks forward to each day.
Currently finalizing plans for further training in the placement of dental implants, Dr. Brandt has also continued his education in oral surgery, forensics, and advanced prosthodontics.
When he isn't applying his problem-solving logic or artistic eye to tackling everyday dental concerns, he is busy spending time with his wife Joyelle, their 2 cats (Cloud and Sky), or on one of his many creative pursuits. Although pencil drawings of people have always been the work he is best known for, he also enjoys painting, photography, and creating a myriad of different computer-generated artworks.